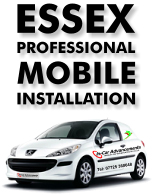 Welcome to Car Alarms Essex...
We provide a Fully mobile installation service covering the Essex area offering a full range of insurance approved Alarms, Immobilisers & Trackers from the
biggest names in the industry such as Cobra, Pandora, Meta and Starline.
As well as Cars, we can also fit security to other vehicles including Vans, Trucks, Caravans, Motorhomes & Motorbikes.
We pride ourselves on the quality of our workmanship, customer service and value, so contact us today for free advice and a competitive quote.
So what does the TRI Thatcham approval mean? It means we have sat the latest exam put in place by Thatcham, This exam was put in place of VSIB approval due to them going bust some years ago.
Area's we offer a mobile service in Essex, For Car Alarm and Tracking Installations. We can be contacted on Phone 07525 068291 or Email Sales@in-car-advancements.co.uk

BASILDON, BRENTWOOD, CANVEY ISLAND, CHELMSFORD, DAGENHAM, LEIGH ON SEA, SOUTHEND, ILFORD, ORSETT, PURFLEET, SOUTH WOODHAM FERRERS, SOUTH OCKENDON, BENFLEET, PITSEA, TILBURY, STANFORD-LE-HOPE, GRAYS....
Car Alarm Brands we supply and fit Cobra Alarms | Pandora Alarms | Toad Alarms | Viper Car Alarms


I have seen a cheaper alarm will it be as good as a Cobra or Pandora for example? The answer is normally no! Cobra and Clifford put major product development and money into making sure there products are going to last the lifetime of the vehicle and when any company puts an alarm through Thatcham to get it approved it costs around £10,000 to get the full Cat1 or Cat 2-1 approval. How many cheaper alarms do you see on the market that are Thatcham approved and have had major research and engineering to make them as reliable as they are today?
Scorpion Automotive design and develop car alarms (Toad and Sigma) and tracking systems (Scorpion Track) in the UK, All the parts are fully made in the UK and with there latest testing equipment you can be assured the product you choose will be made very well, Scorpion put there products through the most harsh test methods possible to make sure there products will stand up well the the environment on cars, bikes and HGV's. Scorpion pride themselves on keeping jobs and units all being made in the UK to keep the country strong.
Scorpion Track has taken the stolen vehicle tracking market and has given it a wild shake up with gold awards for 2012 and 2013 it has really pushed the market with its strong reliability and new features which allow the customer to check the location of there vehicle and allow them to set alerts in case the vehicle is started. With the lowest subscription the Scorpion track is hard to beat with any other tracking unit.
catalytic converter theft is at an all time high and you should be thinking about adding a Cat alarm when having an alarm fitted to your vehicle this is a add on system and is linked into the alarm which has 2 sensors clamped onto the catalytic converter itself. Once these detect movement or cutting the alarm will sound with the indicator lights flashing. These are effective alarms and the people stealing them don't want to make a noise.
People ask once they have an alarm installed will they get any false alarms, The answer is once a branded alarm has been installed the sensors are auto adjusting so they can't be over sensitive for example years ago the alarms would be adjusted via the installer and if they are set up just a little to high the alarm will go off every time a loud car or motorbike passes. The only service part on an alarm today would be the bonnet pin this requires a small amount of grease to be added every year to stop it rusting. But on most new cars a bonnet pin is not need due to it picking up the signal from the data network on the car.
If you are worried about your vehicle feel free to give us a call and have a chat about how we can improve your vehicles security.
What alarm is best for your vehicle? We always suggest on later vehicles a Thatcham plip upgrade should be installed on these cars due to the vehicle having a remote fob as standard already. We can fit an alarm that works along side this perfectly and will need no effort from yourself to alarm or disarm the system. This is also a much better way of having an alarm fitted as there is less to go wrong like a customer breaking an alarm fob.
We would suggest Cobra for any plip upgrade alarm due to the alarm being able to be set-up with the vehicle via laptop before the alarm is installed. It will have the make,model and year programmed into the alarm ECU so it matches to your vehicle software perfect with no problems. Once a Cobra system has been fitted it is good enough for the life of the vehicle. We class Cobra alarms in the auto electronic industry as fit and forget alarm systems.
Did you know 40% of cars stolen are never seen again, This is due to stolen to order vehicles being shipped out the UK and vehicles that are stripped down for parts. Trackers are a MUST on the vehicles below due to there high profile of being stolen, Most are taken with the keys so you can act now and get a tracker installed before its stolen. The trackers we can supply and install will even work if your vehicle is put in a steel or lead container.
Top Most common vehicle's getting stolen in 2018

Ford Fiesta ( Standard & ST )
Ford Focus ST
Ford Focus RS
Fiat 500 ( Standard & Abarth )
Mercedes C Class
Mercedes E Class
BMW X5
BMW 3 Series
Range Rover Sport
Land Rover discovery
VW Golf ( Standard & R )
Audi RS3 & RS4
We also offer a full range of vehicle security extras such as Van Locks and Slam Locks which can be locked at night when you leave the vehicle giving extra piece of mind that you have dead locking installed or you can have the slam lock system fitted where you slam the door and it locks every single time. We also offer steel rear window guards which make breaking through the glass to get into your vehicle alot harder. A steel bulk head may be needed up front to stop thefts breaking in the front of the van to climb into the back.
How do you know your getting the best installation of Car or Van security products. We are very strict with our standards every single wire will be soldered and protected by heatshrink or self amalgamating tape to protect and weather proof the connection. all wiring which is run in your vehicle will follow the vehicle loom where possible or a neat new loom will be run. We have met all of the latest Thatcham standards which is now TRI Thatcham approval. This was an exam to make sure all engineers are fitting the products correctly and in the best way possible to increase security on your vehicle.
With Thatcham products they have black wiring which is taped into the original vehicle wiring harness and this makes removal very hard for a theft if they was attempting to remove the alarm system from the vehicle to steal it.
View our terms and conditions
Copyright © 2018. All Rights Reserved Sitemap
*All content (pictures/text/articles/written text) are all owned by In Car Advancements - Anyone using our content will be asked to remove within 24hours, if you don't comply court action will be taken!*