Viper Car Alarms

Viper is the leading brand in the USA by directed due to there stunning alarm systems which are fully loaded with the latest features like remote lights with make a sound and light up when the alarm is sounding, The also offer smartstart and 2 way coms which is great for checking your car is locked while out. With its ultra secure immobiliser you can't go wrong with the viper range.
Viper 480XV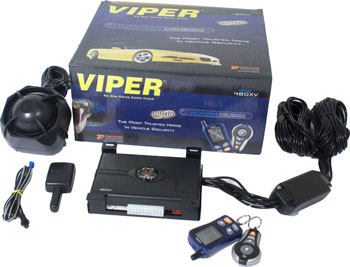 Thatcham Insurance Approved Category One Alarm
6-channel 2-Way Remote pager system
Confirms the alarm commands and alarms triggers on the transceiver LCD screen
Antiscan and antigrab techology
Full On-board Door Lock Relays
Flashes indicators
Sensor Bypass Facility
Ultra-bright Blue LED
PIN Override and Valet Mode
Passive Arming
Bitwriter Programmable
Doors Bonnet and Boot Protection
3 circuit Immobilisers
Remote Adjustable Ultrasonic interior scanners
Six-Tone Siren EP2 Battery Back Up siren
Bright Blue LED System Status Indicator
Total Closure output
5 Auxiliary Outputs for additional remote control functions
Horn output
Includes One 2-way Responder Transceiver and One 4-button 1 way Transmitter
If your worried about leaving your car this is by far the system to have and add the adational dual zone microwave and you have an awesome set up which will protect all doors, boot, bonnet and inside the interior and both exterior sides of the vehicle with a warm away tone. The viper gives 3 bleeps if you get to close.
Want to talk to us regarding an alarm installation please contact us