Clifford Car Alarms

When you have a Clifford Car Alarm installed people think twice before attacking it due to the advanced sensors they use to stop theft even before a break in. Other alarms have come close but never taken the Clifford brand by storm. Clifford have won ICE gold awards year after year for the best security product these are the most common Clifford alarm systems listed below.
Arrow 5.1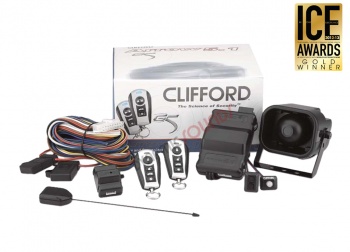 The best basic alarm on the market with its loud 6 tone siren which grabs attention when sounding a ultra bright LED and the Clifford award winning dual zone shock sensor. This alarm is going to keep your car secure and is the best in its class as world leading security.
3 button Clifford remote fobs are nice to hold and they look the part on any set of keys. This alarm is suited for people who want the best but don't require a Thatcham approval system.
Clifford 470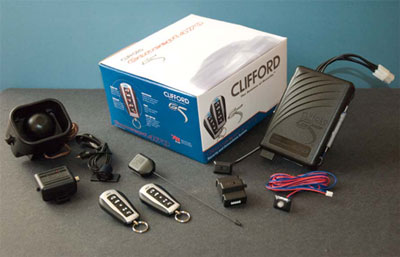 A fantastic feature loaded system but without any Thatcham approval. It comes with a dual zone shock sensor and glass break sensor as standard. along with a revenger tone siren, this system is like a Clifford 650 MK2 but with no approval or metal case over the main alarm ECU.
5 button fobs as standard with small buttons which can't be pushed easily in your pocket which is a major problem with some alarm systems.
Clifford 650 MK2 Thatcham Cat 1 Approved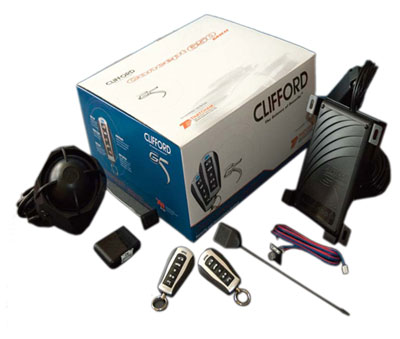 This alarm has been around for years and don't get old it keeps winning awards year after year for the best engineering and design work from the directed engineers that made it when it was made many years ago in the UK.
Why is it such a good selling alarm system? Due to the extras you can add onto the system and the ablity to have the alarm programed via a laptop to set the alarm up to the exact spec the customer wants and if a feature needs changing to suit it to fit onto a certain vehicle.
Very long remote key fob range and back up battery in the alarm siren which means even if the power is lost the alarm will still sound.
Clifford Alarm Add-On's
Clifford 506-T Glass Break Sensor
One of the best sensors to have added onto an alarm to have an instant trigger once the vehicle glass is cracked or broken. Enhance the security of any install with an optional audio sensor, which detects tampering and breaking of the vehicle's glass using a microphone and a microprocessor, which analyzes the frequency, intensity and timing of intrusion sounds to eliminate false alarms. Detects even "soft breaks" where the glass is shattered quietly.
Clifford 507-M Digital Tilt Sensor

Spent a fortune on your alloy wheels? This little sensor is needed it is fully digital so it knows how your vehicle is parked no matter if its on a flat surface or parked on a curb it will trigger with any vehicle movement. The 507M Digital Tilt Sensor from Directed is ideal for protecting a vehicle from theft by detecting when the vehicle is being raised by a tow truck or lifted using a jack, in an attempt to remove the wheels or tow the vehicle. The 507M auto calibrates each time the alarm is armed, referencing the vehicle's angle of inclination and ensuring the most accurate tilt sensing possible. The 507M is perfect for protecting vehicles with upgraded wheels and tires.
Clifford Dual Zone Proximity Sensor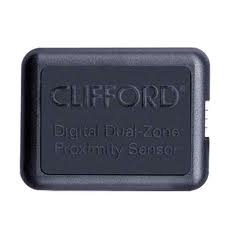 The best sensor Clifford ever released and it has been known for it ever since it was first launched in the UK many years ago. So your asking why is this such a good sensor, It has Dual bubble zone which protects your vehicle. If someone walks upto the front window glass the car will chirp and keep chirping until the theft moves away from the vehicle. if a theft breaks the glass and jumps in the alarm will sound its full siren.
Clifford IntelliStart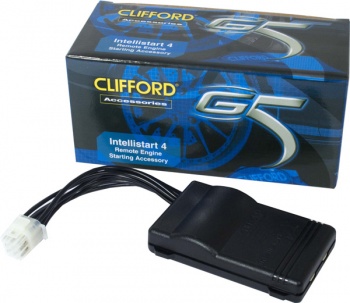 One of the most talked about add ons in alarm history due to you being able to start your car from inside your house on them cold winter mornings.It is suitable to be added to manual and automatic gearboxes with all the safety features to protect your car from getting stolen while the engine is left running. IntelliStart allows you to start the car before you get in.
In the summer you can use IntelliStart to cool the car down via its air conditioning and in the winter, use IntelliStart to warm both the engine and interior.
Just the touch of a button starts the engine, but leaves the doors still locked and the alarm still on.
Clifford Smart Windows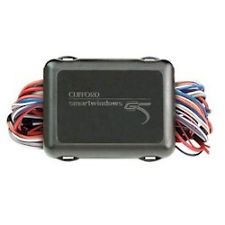 Clifford SmartWindows 4, a G4/G5 system accessory. Your Clifford G4/G5 system is SmartWindows 4 ready and will automatically close your car's power windows every time you arm your Clifford G4/G5 vehicle security system with the system's remote control.
More Power to Power Windows Open, close and vent any 2 of the car's power windows using the G5 security system remote control. SmartWindows also adds extra features inside the vehicle: one tap fully open, one tap fully closed. Tap the switch during roll-up and roll-down to instantly stop the window. Vent opening is selectable via the CliffNet Wizard, and can be vented repeatedly after remote arming. The SmartWindows SafetyStop feature halts window movement if there is an obstruction.
Want to talk to us regarding an alarm installation please contact us